Marketing strategy
Market plan & Communications
Media Planning
Goal
Launching an innovative consumer forecasting product to the FMCG and UK grocery market.
The Met Office is a world-leading provider of weather and climate services and is consistently one of the top two operational weather services in the world. Their Unified Model is recognised as the leading numerical model for weather forecasting and their supercomputer is one of the largest in Europe carrying out 1,200 trillion calculations per second!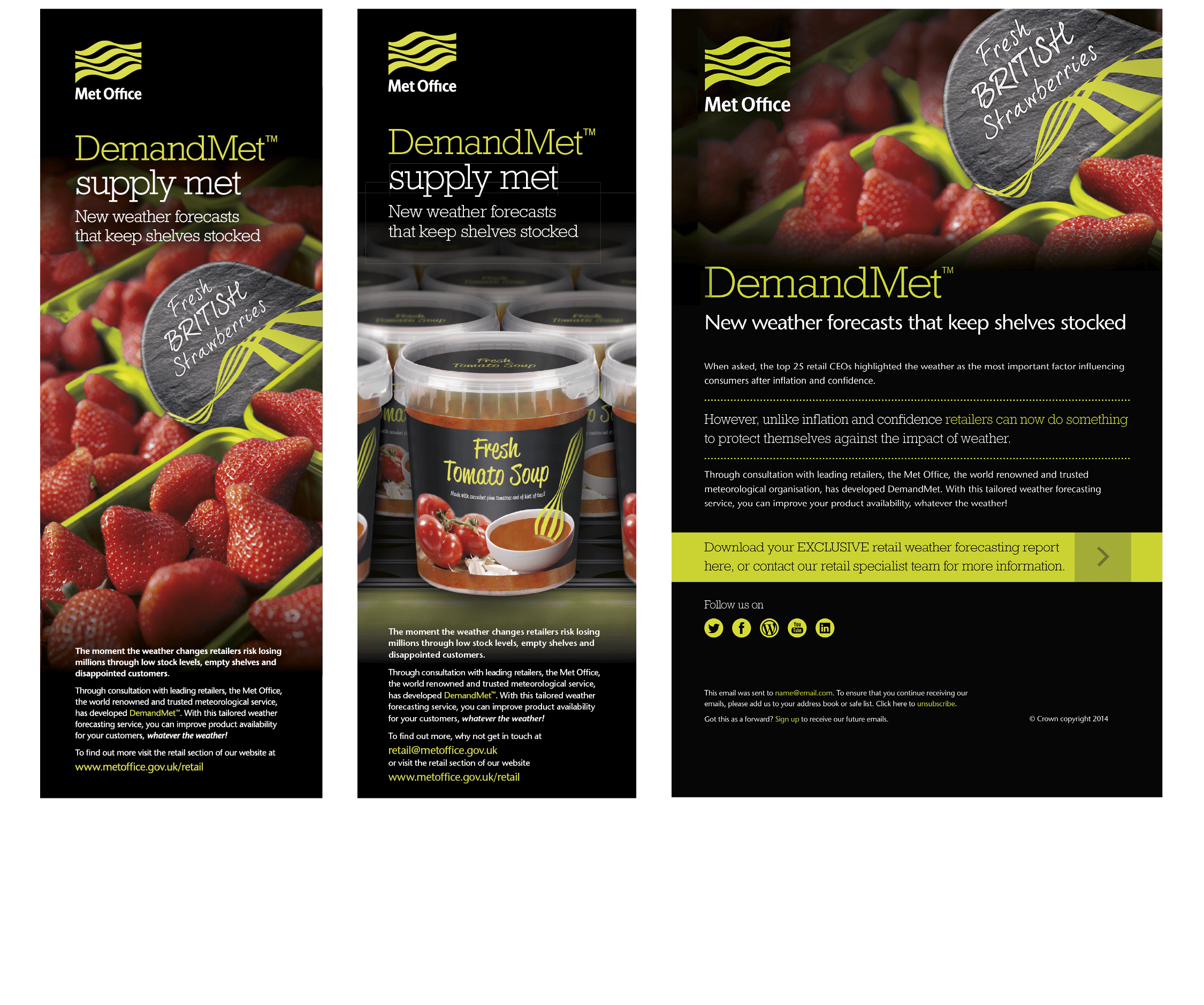 Getting in front of the head buyers for top retailers
Retailers risk losing millions when the weather changes through low stock levels, empty shelves and disappointed customers. However, with the use DemandMet™ retailers are able to minimise potentially huge costs by keeping shelves stocked with the right products when they are needed and when demand is high.
We knew the product was going to be well received by the target audience but the challenge was to get in front of them! Contact details of head buyers for the likes of Tesco, Asda and Arla Foods are very closely guarded.
High impact strategy, creative execution and media planning
By utilising the food market bible, The Grocer, we were in a position to directly target the ever elusive buyers of the UK FMCG market. Offline and online platforms were used to launch DemandMet™ within a supply chain focused printed supplement, impactful advertising and a full page of editorial creating the bang the client wanted.
Over the following weeks, a supportive online advertising campaign was created to extend reach and a lead generation campaign was undertaken with a technical whitepaper director to the inbox of 19,000 targeted contacts.
Testimonial
"Chalk & Ward Advertising was original and commercially astute in the strategic approach to the brief which resulted in tangible results for us to follow up. We look forward to working with them again."
Basia Napiorkowska / Marketing Manager / Met Office